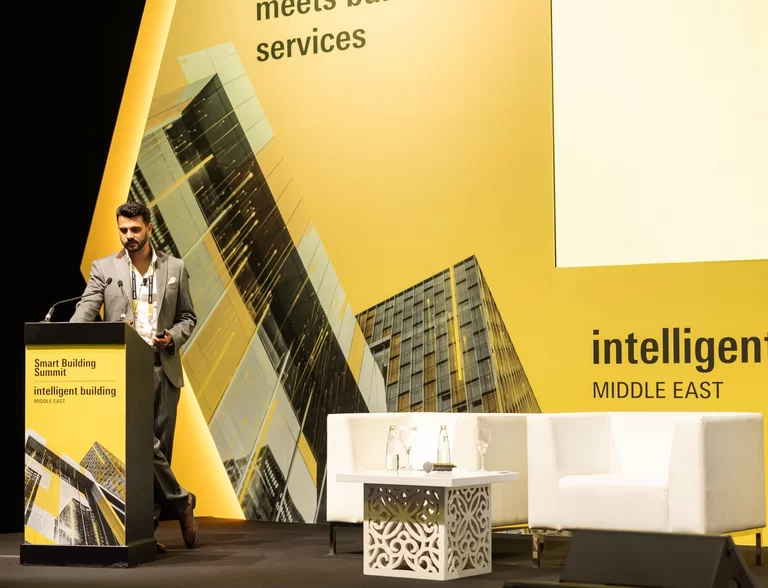 DUBAI, UAE – Now is the time to capitalise on technology advancements to redefine how to make buildings in the MENA region 'smart' in the region, according to industry experts on the opening day of Light Middle East | Intelligent Building Middle East, the region's premier networking and sourcing platform for the lighting, design and building technology eco-system, which opened its doors for a three-day run at Dubai World Trade Centre today.
Officially inaugurated by HE Mattar Al Tayer – Commissioner General for Infrastructure, Urban Planning and Well-Being Pillar - Director General, Chairman of the Board of Executive Directors of the Roads, and Transport Authority – Dubai, the 16th edition of Light Middle East | Intelligent Building Middle East is co-located with Intersec to create MENA's leading trade fair for lighting and building services technology.
A global gathering of industry leaders, bringing together 172 exhibitors from 27 countries, the three-day show got off to an action-packed opening, including the debut of the Smart Building Summit, a meeting of the leading voices from across the construction value chain, designed to showcase some of the latest research and innovations driving improvements in productivity, quality, reliability, cost-savings, waste-reduction, and energy efficiency.
In an opening session titled 'Keep Up with the Rapid Pace of Change in Smart Buildings: Stagnate or Innovate,' industry thought leaders analysed what makes buildings 'smart' and looked at practical approaches that can be adopted to optimise digital transformation.
"The Middle East has adapted slowly from a tech perspective," Christopher Seymour, Regional Director and Head of Strategy investment MEASA, told delegates and fellow panellists.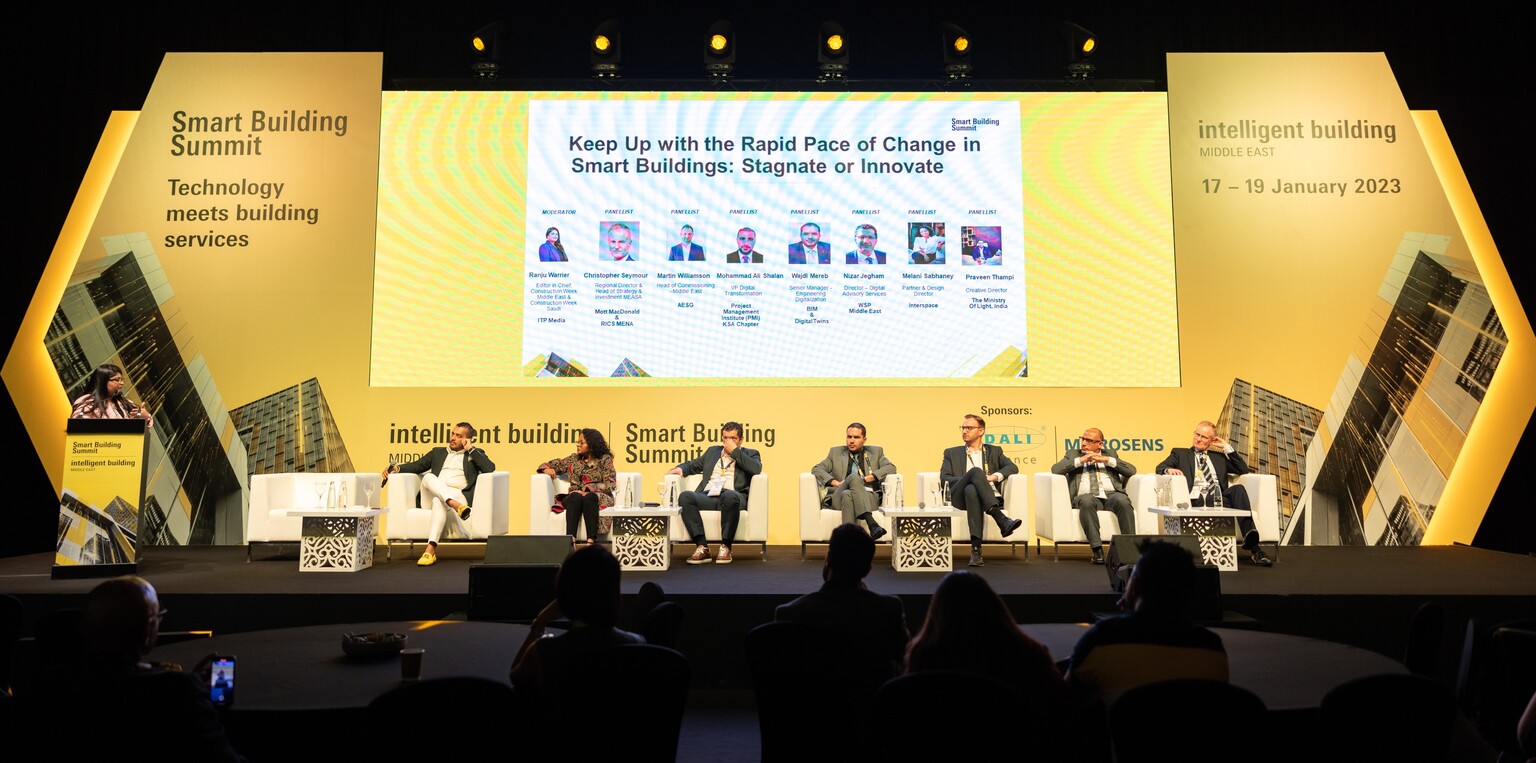 "It has been gradual, but we now finally see it moving into the client space. We have noticed an acceleration with facial recognition and other such features. It has taken 10 years to get to this stage."
His views were shared by fellow panellists Mohammad Ali Shalan, VP Digital Transformation | Project Management Institute (PMI) KSA Chapter; Wajdi Mereb, Senior Manager - Engineering Digitalization - BIM & Digital Twins; Nizar Jegham, Director – Digital Advisory Services | WSP Middle East; Melani Sabhaney, Partner & Design Director | Interspace and Praveen Thampi, Creative Director | The Ministry of Light, India.
Meanwhile, in a keynote session on 'Defining Smart in the Built Environment,' Rohan Chandavarkar, Associate Digital Delivery, at AESG, a leading consultancy and engineering advisory, told delegates that the definition of what makes a building 'smart' requires a rethink.
"There is no clear definition of smart building at the moment, hence those such as the smart building associates are creating a framework for its definition. A smart building is one that will deliver all positive outcomes for all users through digital tech to exceed evolving expectations," said Chandavarkar.
He talked about the need for a noticeable redefinition due to real estate demands, with approximately one in five home occupiers in the EMEA region now prepared to pay a rental premium of over 20% for tech to enable smart buildings, while 79% of office workers would like their office to be equipped with the latest smart-building technologies.
Chandavarkar shared his three drivers for what makes a smart building: Technology, which forces us to re-evaluate everything from user productivity to environmental impact; evolving work habits where office landlords will need to cooperate with tenants to create desirable spaces to attract them back to their premises; and the ongoing climate crisis – operating emissions account for 3/4th of the 40% of the global CO2 emissions contributed by buildings.
The rapid pace of change in smart buildings was discussed with a panel of industry experts sharing their 360 degree perspective on what will drive smart buildings in the future, chaired by Ranju Warrier, Editor in Chief, Construction Week Middle East and Construction Week Saudi Arabia.
On the exhibition floor, among the 172 leading exhibitors showcasing the latest solutions to address infrastructure and industry needs this week, ABB Industries is catching the eye with its latest street lighting and light management developments.
"We have been exhibiting at Light Middle East | Intelligent Building Middle East every year since 2016. Participation in the show has become very important to us. We have expanded our portfolio and to include our street lighting solutions and smart light management systems this year," stated Thamer Omari, Product Marketing Director at ABB Industries. "We also launched a renewable energy solution that is cost effective and technology driven. Our product can now be controlled using the internet which will help consumers save on installation," she added.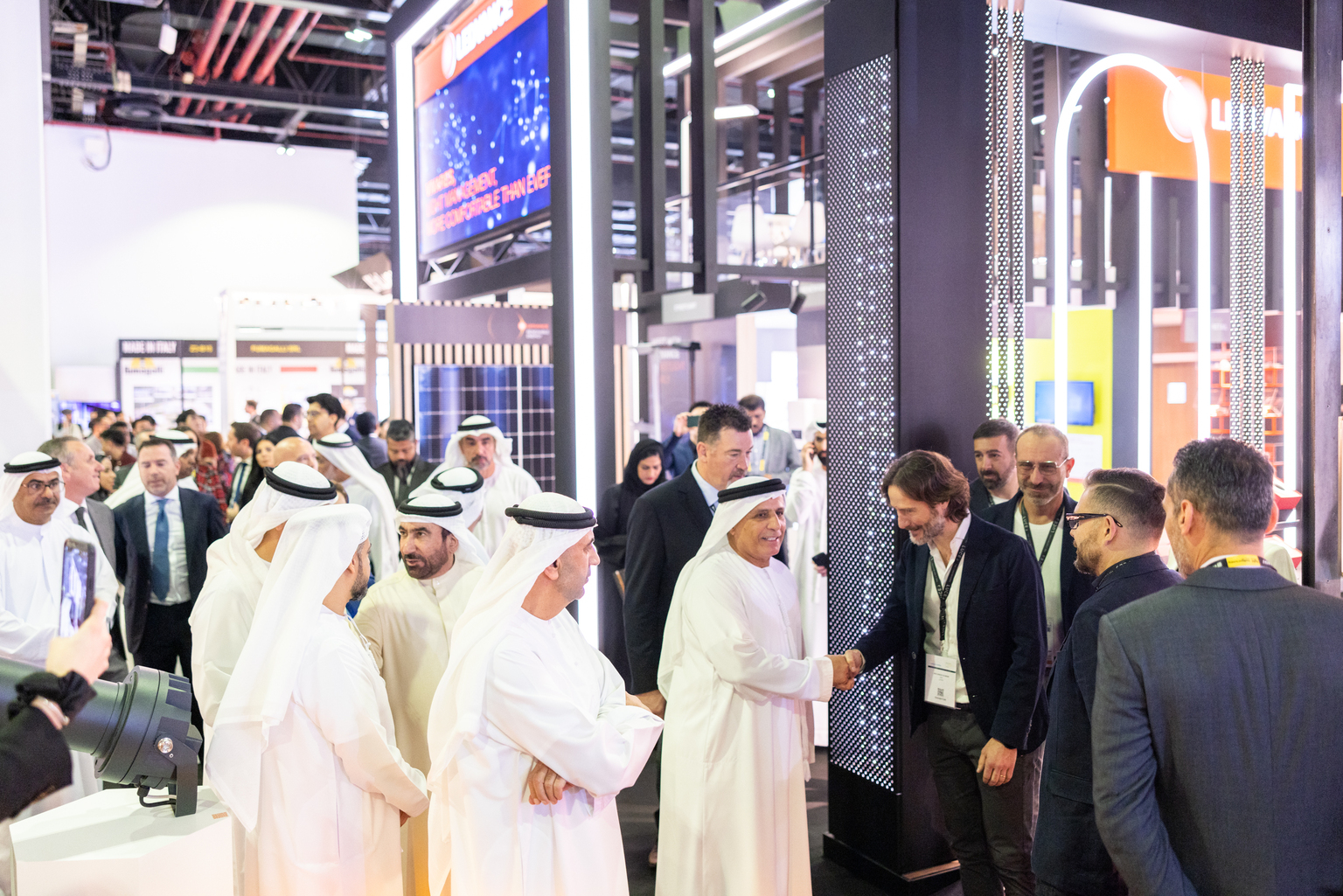 "Light Middle East | Intelligent Building Middle East has been amplified this year, with immersive new focused content streams, key knowledge-sharing platforms and industry leaders bringing transformative solutions for the future of lighting and smart buildings," said Dishan Isaac, Show Director at Messe Frankfurt Middle East.
"The show is proving once again to be both an accelerator and an enabler for the industry, with decision makers and change makers together under one roof."
Highlights for day two of the Smart Building Summit include a thought-provoking panel discussion on 'The Smart Building Lifecycle: Delivering Sustainability Throughout'; a session titled 'Smart Sustainable Solutions for Infrastructure Development,' and another on 'How Smart Building Technologies Help Aligning with ESG Goals.'
Meanwhile, the all-new LIGHTalks, part of THINKLIGHT which has established itself as the leading education, discussion & networking platform for lighting, design and technology in the Middle East, will open on Wednesday, 18 January with a keynote on 'Lighting Design and the Circular Economy – Leading the Way,' by Praveen Thampi, Creative Director | The Ministry Of Light, India.
Throughout the day, this conference programme will discuss all the angles of the implementation with specific focus on the challenges and the most effective solutions on a regional level.