Introducing a series of webinars that took place from June 2020 all the way up until September 2021. Each session will run between 60-90 minutes and cover extensive educational content on our online platform, enabling you to hear best practices, case studies, standards, and regulations while learning about the latest innovations and engaging in Q&A's.
The format for the Webinar series is focused on interactive and participative industry-specific discussions, with the right amount of technical content, as we stirred the conversation towards our Conference in September.
Thank you to all of our speakers!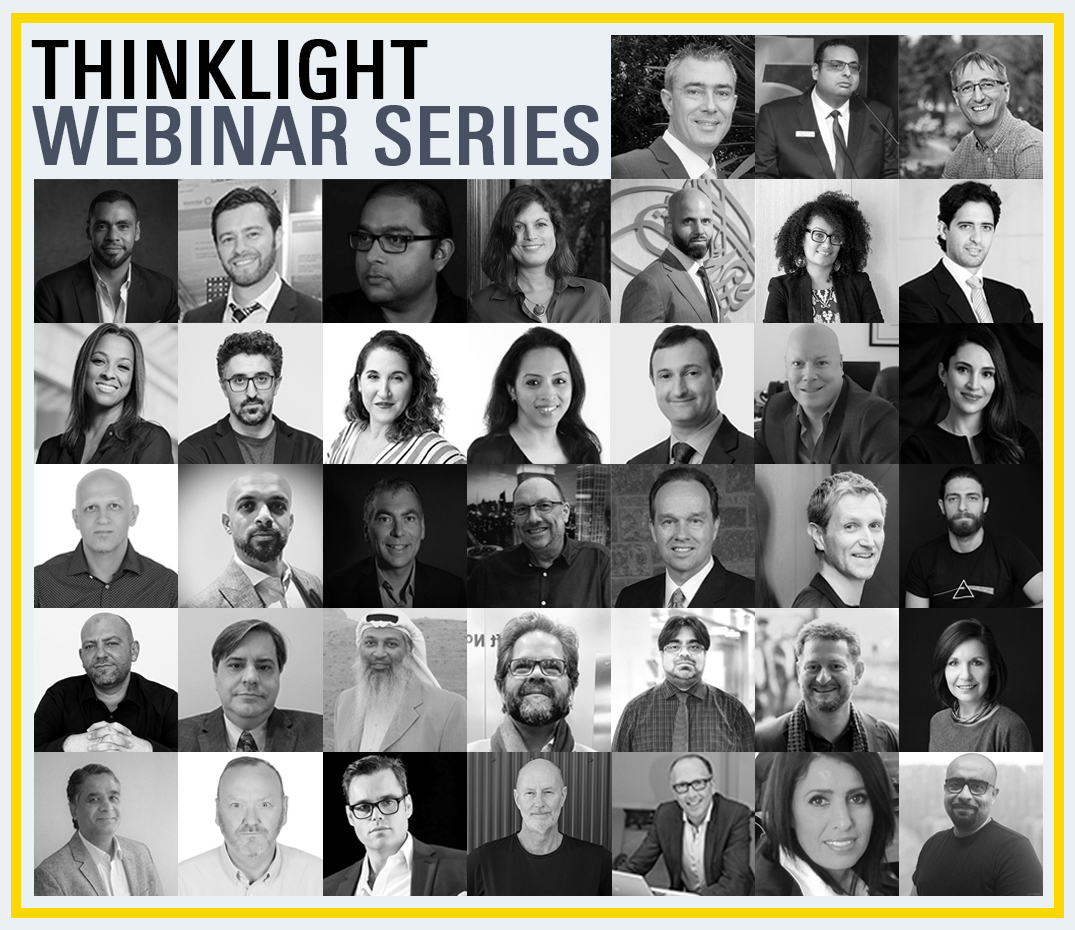 We hope you've enjoyed this year's #THINKLIGHT webinar series and look forward to bringing you even more insightful discussions, topics and online educational content in 2021 during lead up to the show in September.
A big thanks to all the wonderful, knowledgeable and passionate speakers that made the 2020 THINKLIGHT webinar series an epic success. You've all been part of something that genuinely provided value and benefit to thousands of your industry peers, colleagues and friends from around the world. Thank you!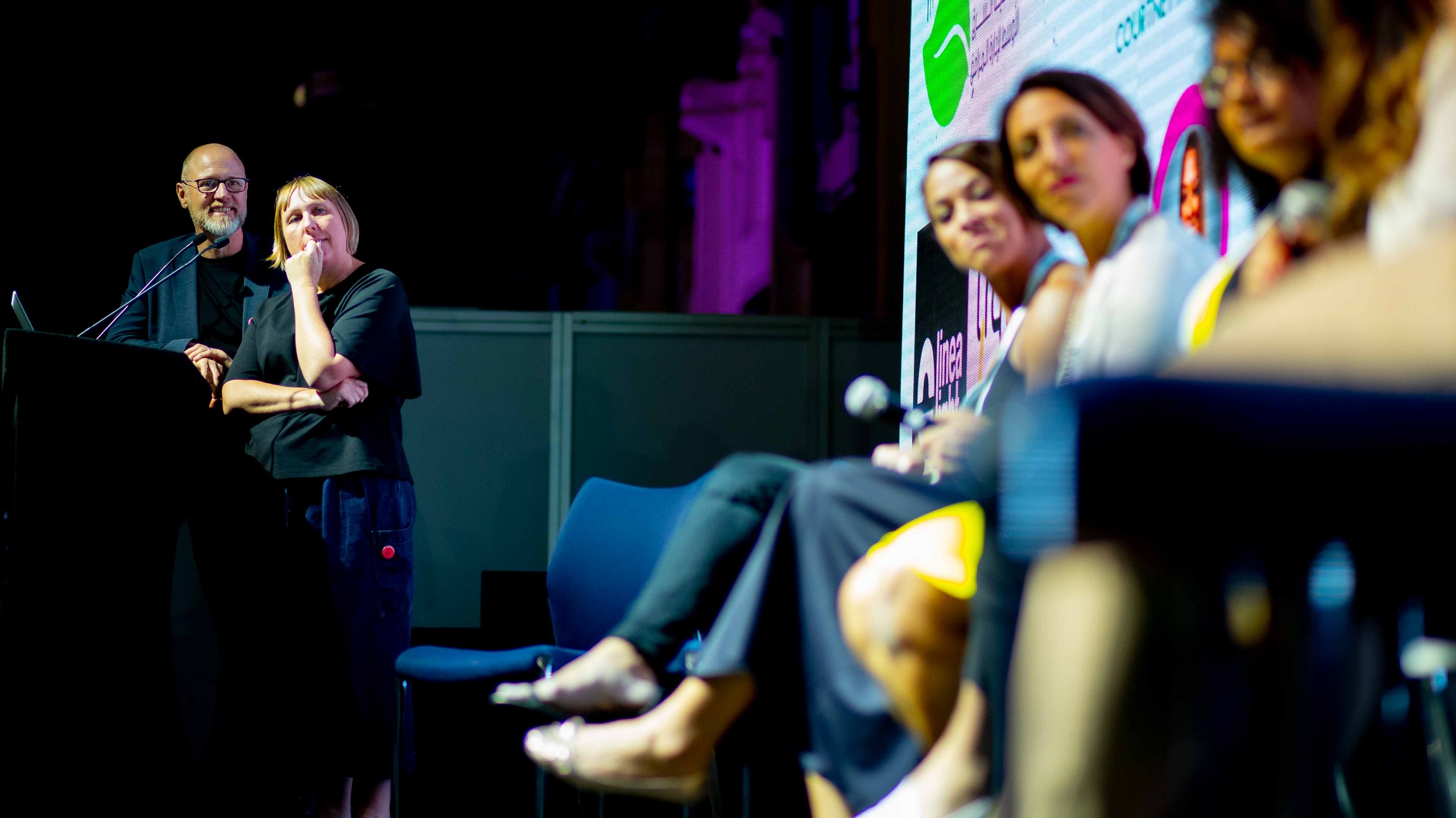 WEBINAR STATS
2,638 attendees from 62 countries | 46 speakers from 5 different time zones | 211 questions asked and answered | 59 mins average attendance duration per attendee
THINKLIGHT & IB-Tech webinar series schedule
"I just wanted to say that I've been attending Messe Frankfurt's webinars for a few months now and have found them to be higher quality than most other webinars I attend. Thank you!"
"Very wonderful session, really gave great insights into big data and how it truly changes the whole usage of a luminary
"I wish I could stay, but I have to leave to teach my globally and culturally focused studio course and then my lighting course. Trying to help the future of lighting designers! Obviously, this webinar was perfect for what I teach. One of the best I've ever attended! THANK YOU!"
"I really enjoyed this discussion, Thanks for touching on all the points we are concerned about. I will catch the remainder in the recording"
"A really great panel, thank you very much"
"One of the best webinars, really enjoyed it, thank you guys !! keep lighting "
"Thank you to everyone. It was an excellent session."
Dark Skies Webinar: 28 Oct at 4pm GST
Specialty lighting for disinfection (U-VC)
If a UV germicidal device has a UL Certification Mark, does that indicate that the device is considered effective against COVID-19 or other viruses? Watch the webinar reply as it covers this and other points including, the benefits and potential risks of UVC light and UV emissions.
Watch the replay for this webinar here
Panelists & Speakers
Signify

Berno Ram, Commercial Leader Systems & Services, Retail & Hospitality

Berno joined Philips Lighting, now Signify, in 1986 after graduating from University in The Netherlands. He was appointed President of the Middle East Lighting Association (MELA) at the end of 2019.
Underwriters Laboratories

Juan M. Caamano Jr. Principal Engineer (PDE)

Juan M. Caamaño Jr. graduated from Manhattan College in New York City with a Bachelor's of Science degree in Electrical Engineering. He has worked for UL for over 25 years as an engineer, conducting and overseeing certification and performance testing for the lighting industry.
Middle East Lighting Association (MELA)

Gerald Strickland, Director

Gerald Strickland works with regional and global stakeholders to help align international energy efficiency and environmental regulations with a particular focus on developing policy and regulations for the lighting industry and regulatory authorities in the Middle East region.
The Team behind the Lighting Design Process: Current Challenges
A dynamic dialog -focused on the lighting design process- between the different stakeholders involved in the conception, development and execution of a project. The idea is to understand the mindsets, perspectives from each party which all expect the same outcome, a great project.
Watch the replay for this webinar here
Panelists & Speakers
Debbas

Emilio Khayat, CEO

Economist by trade, Emilio joined DEBBAS in 2006 and has since taken on national and regional responsibilities overseeing operations throughout the GCC and India. Emilio was appointed CEO in 2017.
Fisher Marantz Stone, Inc.

Charles G. Stone, President,

Charles joined FMS in 1983 and became President in 2003. His Traveling Light lecture tour has visited 22 nations. FMS studios in New York and Seattle have designed award-winning work on 5 continents.
Martin Valentine, Lighting Specialist

Having worked in varied roles within lighting; from specialist engineering & lighting design practices, to government expert, as well as on the manufacturing side, Martin is currently between roles whilst remaining active in supporting lighting education worldwide.
10 Design

Chris Jones, Partner - Europe and Middle East

Chris is Partner of 10 Design. He has over 20 years of international experience on major projects throughout the Middle East, Asia, the UK, and the US. He has lived and worked in New York, London, Istanbul, Edinburgh, and is currently based in Dubai.
Patricia Lopez, Architect and Lighting Designer

For the last 2 years, in the position of Lighting Design Director at Emaar Development, I had the responsibility of overseeing architectural lighting projects for all of Emaar's portfolio, both in the UAE and Internationally, leading the lighting design conception, development and implementation.
General lighting regulations in the Middle East: Regional update

This webinar would be useful to get an overview of lighting regulations and policy in the region as it stands today and to reflect on the scope of products covered by the various regulations, specific functionality requirements, hazardous substance requirements and anything else of interest to allow companies to do business in the various countries where lighting regulations are present. The session includes a Q&A.
Watch the replay for this webinar here
Panelists & Speakers
Tungsram

Zoltan Pilter, Regulatory Affairs Manager

Zoltán oversees the entire product regulatory lifecycle of Tungsram Group from policy-shaping to full compliance focusing on the Europe, Middle East and Africa Pole, but assuming occasional global assignments as well.
Abu Dhabi Quality and Conformity Council

Simon Miller, Specialist, Regulatory Research

Simon led the establishment of the Abu Dhabi Government's product conformity assessment services, including the mechanisms by which the Government determines the impact of conformity assessment on the quality, safety and performance for products in the Emirate.
Middle East Lighting Association (MELA)

Gerald Strickland, Director

Gerald Strickland works with regional and global stakeholders to help align international energy efficiency and environmental regulations with a particular focus on developing policy and regulations for the lighting industry and regulatory authorities in the Middle East region.
Gearing up for the future: Digital change for the Lighting Industry
Join us for the second session in the THINKLIGHT webinar series. Points of discussion include: 
 Lightified: challenges, opportunities and next steps post the current pandemic 
 Lighting Design of Things (LDoT): Influence of lighting designers and acceptance from relevant disciplines (IT, security, AV)
 The future of Lighting Industry: Where are we headed 
The session will also have time for audience involvement in Q&A.
Watch the replay for this webinar here
Panelists & Speakers
Lightified, Smith Tait Lighting Design

Rupert Tait, Founder

Rupert Tait is the founder of Lightified & Smith Tait Lighting Consultants. The focus of his career is "transforming a traditional industry & helping people make better lighting choices". He has worked with major client's incl. Hilton, Emaar, Crowne Plaza, KFC, British Airways and Louis Vuitton.
The Lighting Institute

Waleed Fakousa, Director

Waleed Fakousa is the head of CD+M's architectural lighting design studio in Dubai, and the managing director of The Lighting Institute. He has more than a decade of experience practicing lighting design in Europe and the Middle East
Lighting Design of Things & KLDC

Martin Klaasen, Principal & Founder

Martin Klaasen is the principal and founder of KLD. Martin is an award winning lighting designer, design consultant and lecturer with more than 30 years of experience in the lighting industry.
Illuminating Engineering Society

Mark Lien LC, CLEP, CLMC, HBDP, LEED AP Industry Relations Manager

Mark has designed lighting systems for a wide range of applications including residential, retail, healthcare and both conventional and nuclear power plants. He has provided lighting education, working, presenting and teaching throughout North America, Europe, Asia and the Middle East.
Impact of Covid-19 on the Lighting Industry
This webinar was supported by Scientechnic
During the current unprecedented pandemic, we have all had to grapple with the now, and the future. Concern is the most common emotion on the present and future of the lighting industry. How will all the different players adapt? This discussion is the first of its kind for the region led by experts within the lighting industry – from the independent designers to the brands & supply chain. They will share the stage in discussing both the positive and negative impact on:
Regionally: Timelines, Quality & Accessibility - The Design & Product perspective

Personnel & Resources: Pros & Cons - What has COVID-19 adaptation meant on individual and team efforts 
Technology: Design, Product, Code & Knowledge - What does it mean moving forward?
Watch the replay for this webinar here
Panelists & Speakers
Light.Func

Sakina Dugawalla-Moeller, Founder and Lighting Designer

Borne out of a flair and passion for the creative, Sakina is founder of Light.Func. Gregarious in nature, she leads the team in executing design of the highest creative and technical quality. With over a decade's experience in the Middle East she goes beyond just design.
Scientechnic Lighting Solutions

Samer Moukalled, Vice President

Samer Moukalled is the Vice President of Scientechnic Lighting Solutions. Part of the Easa Saleh Al Gurg Group, Scientechnic is one of the leading lighting and control solutions providers in the region and is the premier choice of developers, designers and architects.
Patricia Lopez, Architect and Lighting Designer

An Architect and Lighting Designer, currently part of the Professional Leadership Development Program at Harvard Business School. For over 15 years, she has worked in the field of Specialist Lighting in the roles of Design Director, Design Manager and Conceptual Designer. She has recently founded the educational platform "School of Lighting".
Filix Lighting

Paul Bedard, Managing Director

With over 7 years in lighting industry starting with a solid foundation in manufacturing, then moved into Business Development and Sales. Paul now supports Filix Lighting as their Regional Director for the Middle East, North Africa and India
Godwin Austen Johnson

Regina Santos Associate, Head of Specialist Lighting Design

Regina heads the Specialist Lighting department at Godwin Austen Johnson, with 12 years' work experience in architecture and interior design and another 12 years' work experience with architectural lighting design (nearly 10 years' experience in the Middle East).
Lutron

Adel Saweres, Senior Sales Director

Experienced Specification And Sales Senior Director for Lutron electronics since 2008 specialized in in Lighting controls and motorized windows treatments, System Automation as well as GRMS systems with a demonstrated history of working in the electrical and electronic manufacturing industry.
Are we likely to have SASO like standards for the UAE?
Quality compliance and authenticity of product origins?
LAGs General Lighting Regulations - MELA
Can lighting designers, practitioners and professionals be regulated?
Which GCC countries require CB IECEE Certification and 6000 hour testing?